Sage 50 Accounts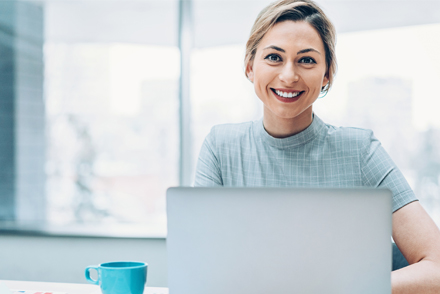 Sage 50 Accounts provides the best of desktop and cloud features combined.
Sage is an easy to use Accounting Software solution for small to medium size businesses.
It offers everything from Accounts Payable, Accounts Receivable, VAT Processing, Inventory Management, Online payments and Receipts, Bank Recs, Cash Flow Management, Project Costing … to name a few features.
Sage and Compuland
Compuland is a local, hands on, Sage Business Partner. We assist companies utilise all the benefits and features of Sage Accounts and Sage Payroll to help companies save time, save money and improve cash flow.
Compuland services might include Training, Customisation, or even implementation of 3rd party add on products.
Email sales@compuland.ie to organise a free consultation with a Sage expert.
Using the Sage 50C Cloud features, called Sage Drive, you now have the freedom to control your business, remotely, wherever you are.
Sage 50C now integrates with Microsoft Office 365.
Even more freedom to work how, where, and when you want
Even more control over your business to make smarter, faster decisions
Even more productivity so you can get more done in less time
Sage Ireland has just released the latest version of Sage 50C. Sage has listened to their customers and have produced a version that increases efficiency and productivity, while helping to reduce costs.
Recent upgrades include :
Reverse / Undo a bank reconciliation
Back up your data while others are still working
Sage Capture Approvals – review "mobile" transactions before posting
Speed Cash Flow by adding "Pay Now" buttons on Invoices and Statements that are emailed
Bank Feeds improvements
Further Improvements to Excel Integration
Some of the past upgrades to Sage 50C are:
Automatic Back up to the cloud
Unallocate Incorrect Customer Receipts
Integrate with payment provider STRIPE
Set up easy to manage Customer Direct Debits
Upload several Supplier Payments in one batch to your bank system.
Improved Foreign Currency Integration
Improved Report processing
Email sales@compuland.ie to organise a free consultation with a Sage expert.
---
For a free consultation talk to our Sage experts today on 021 454 4144   Contact us for a free consultation
---
---
Talk to a Sage 50 Accounts expert now to discuss your requirements on 021 454 4144   Contact us for a free consultation
---
Why use Compuland as your Sage Partner?
Compuland supply Sage 50 Accounts at best prices.
We provide one of the best Sage Priority Support packages available.
We are an accredited Sage Business Partner.
We have 20 years of experience of installing Sage in a range of companies around Ireland.
Compuland regularly transition clients from non Sage products.
We provide full customisable Training course to suit YOUR business.
We operate with fast turnaround, strict adherence to deadlines – all delivered by highly professional staff and offering exceptional value for money.
The effect of all this is that you can be confident that if you use Compuland as your Sage partner, your Sage will be set up correctly, with the minimum of fuss and your staff will be trained to operate Sage as efficiently as possible and all for a competitively priced package.
Compuland are here to help you get the most out of your investment in Sage 50c. Email sales@compuland.ie to organise a free consultation with a Sage expert.
---
Talk to a Sage 50 Accounts Expert now to discuss your requirements on 021 454 4144   Contact us for a free consultation
---
Sage Subscription
Sage 50C is now only available on subscription. Pay for your software on a monthly basis to improve your cash flow and you will always include software version upgrades ensuring you are always on the latest version benefiting from feature improvements so you will never have to worry about upgrade costs.
Sage Essentials from €25 per month
Sage Standard from €70 a month
Sage Professional from €130 a month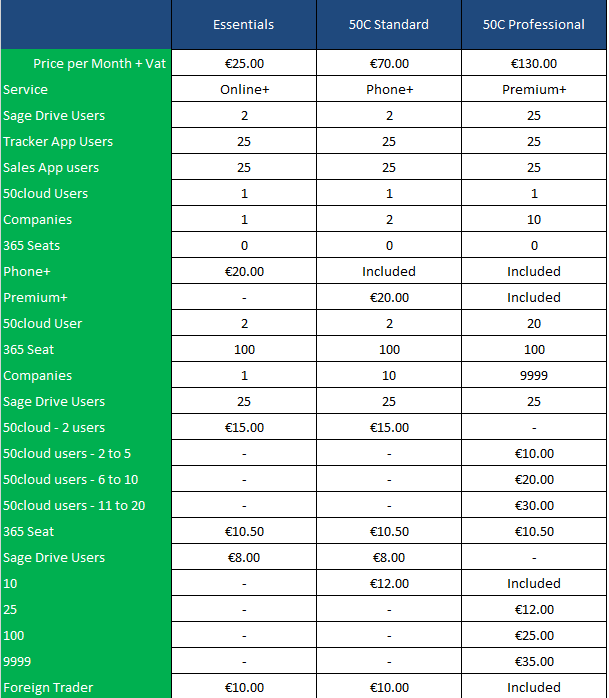 ---
Talk to a Sage Expert now to discuss your requirements on 021 454 4144   Contact us for a free consultation
---
What Sage 50C can do for you:
You can save time and money with our fast, automated processes such as automatic back-ups. We simplify timely manual tasks so that you can spend more time growing your business.
Schedule automatic backs-ups to the cloud; rest assured your data is safe and secure without having to raise a finger.
Create bespoke reports to suit your needs with our easy-to-use report designer
Manage your stock levels with Sage 50 Accounts, set up automatic reminders to reorder when lines are low
Support when you need it with our wide selection of easy-to-follow guides and videos
Benefit from always being on the latest version of Sage 50 Accounts with free upgrades to the newest version
With Sage 50 Accounts you'll have an accurate insight in to how your business is always performing. By having confidence in your accounts you can spend less time crunching numbers and more time focusing on the future success of your business.
Keep on top of your cash flow by easily identifying who owes you money and who you owe money to
Save time with advanced reports to analyse your profit and loss, showing you at the blink of an eye the areas where you are making and losing money
Analyse your individual departments performance against the budget
Adjust budgets and make precise business decisions based on real insights
Take the worry out of calculating VAT and gives you the confidence that you are complying with the latest VAT legislations
Everything you need to manage your customers, suppliers, products and services in one place. With an easy to use navigation and customisable header bar. Create & find customer contact details quickly and easily
View outstanding customer payments and take the hassle out of chasing debts with our range of customisable letters & emails
Create professional invoices, quotes and statements. Choose from our selection of existing formats, or easily customise with your own logo
Manage your suppliers and purchases, quickly see any monies outstanding and pay suppliers on time
Sage Drive Live Access To Your Data
Sage Drive gives your business the flexibility and freedom to access your accounts remotely. Whether you're on the train and need to check a customer's balance or spending the day invoicing from home, we've got you covered.
An integrated part of your Sage 50 Accounts which enables your data to be stored in the cloud
All the dependability of desktop software with the additional benefits of online sharing
With connected devices multiple users* can access your accounts from various locations
No more waiting for your accountant to receive backups, with Sage Drive they have instant access to your accounts from anywhere in the world
Multiple users can work in your accounts software at the same time and see any changes made in real time
---
Find out how Compuland can assist your business on 021 454 4144   Contact us for a free consultation
---
Sage Accounts
Sage Accounts can also be referred to as Sage 50, Sage50C, Sage Professional, Sage Business Cloud, Sage Business Cloud Professional. These all relate to the same product that has been serving the businesses of Ireland for the last 20 years.
---
---
"We have found the Sage Accounts Support from Compuland to be great value for money. Our support issues are resolved rapidly and the service has been outstanding. I have the peace of mind that Compuland are available with advice and support should any problems arise."
Frank Mac Carthy – Maclock
---

Get going in minutes. Quick to set up and intuitive to use, you'll know where you stand with Cashflow and profitability at your fingertips.

Save time and reduce mistakes. Reconcile Bank Accounts using bank feeds and match payments and receipts fast and error-free.

Automatic Back ups to your Desktop, Server or Cloud.

Automatic Data Error Checks – WITH positive or negative feedback.

Better and faster editing of transactions.

Unallocate Bank receipts or Bank Reconciliations.

Create and customise professional invoices and Statements. Insert PAY NOW buttons to increase Cash Flow.

No limit to the number of transactions you can make.

VAT in minutes. Create and submit VAT returns. Never miss a submission deadline with the VAT countdown feature.

International trading. Trade across borders worry-free with an automated exchange rate calculator and multi-currency management.

Collaborate with your accountant. Work online, in real-time with your accountant. And accountants using Sage Business Cloud Accounting – Partner Edition can provide other valuable guidance.

Access Anywhere. Access your Accounting data where and when you want with the Invoicing mobile app.

Help when you need it 24/7. Connect with us when you need to! Simply give us a call or send an email with questions.

Sage Accounts can help you make better decisions and get greater control of your business.

Sage Accounts can be backed up to your PC, Server or Cloud. What ever you are comfortable with.

Take a look at the Sage 50 Add Ons

Take a look in more detail and latest brochure for Sage 2019
---
Downloads
Sage 2016 – Compare Annual Improvements
Email sales@compuland.ie to organise a free consultation with a Sage expert.