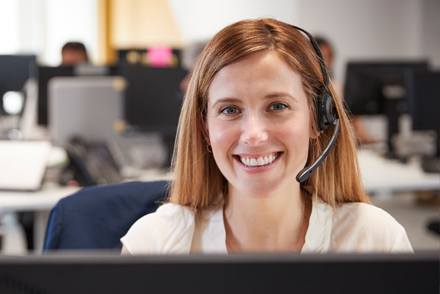 When you contact Compuland Sage Support, you'll get a response from a Sage Product Expert.
Most of our support team are Accountants and Sage 50 Experts so we are confident that we can have your issues resolved quickly.
With over 20 years' experience, our Support Team is staffed by a pro-active, and considerate team whose mission is to make sure you are getting the best return from your investment in Sage Accounts and your Sage operates as efficiently as possible, all the time.
Compuland manage over 500 support contracts throughout Ireland and have a customer satisfaction rating of 97%.
We understand that businesses need to be able to deal with their day-to-day finances efficiently. But sometimes they need that extra helping hand when technical issues arise with Sage Accounts.
Compulands experienced support staff have a friendly, no jargon approach. We provide telephone support, but we also provide Remote or On-Site support, so we are confident that we can resolve most queries within 30 minutes.
Our Sage business experts are always available to answer your Sage questions but also offer support and advice on how Sage Accounts, or 3rd party Adds on, can help your business.
Our flexible Support Packages can be tailored to meet budget criteria to ensure value for money. Email sales@compuland.ie to organise a free consultation with a Sage expert.
---
Talk to a Sage expert today on 021 454 4144   Contact us for a free consultation
---
Our Sage Priority Support package includes:
Phone Support
Remote Access
E Mail Support
Call Back Services
Technician Request
Prebook Support Time
Free trials and discounts on our Sage add-ons
Professional and personal service
Build a relationship with the support team
Help transition from other Accounts packages
Automate import of Microsoft Excel files into Sage
Supply a range of 3rd party solutions to improve automation.
Automatically receive the latest version of your software when it's released
Be completely up-to-date and legislatively compliant
Be among the first with the competitive edge provided by the new software features and benefits
We also offer services to manage:
Password Recovery
Data Repair
Data Clean up
On Site Training and On Site Support
---
Talk to a Sage expert today on 021 454 4144   Contact us for a free consultation
---
Four Stages of Sage Support
1. LOG THE PROBLEM
With over 500 active support contracts and a team of experienced support staff, we've come across and resolved many issues like yours before. Our customers benefit from an active support contract with us that ensures that any issues they encounter are assessed and resolved by our support team.
2. APPROPRIATELY ASSIGNED
The support team tackle each case they work on with the utmost care and attention and a key factor in providing the best care possible is to identify the best member of the team to assist you. Our team includes a mix of qualified accountants along with experienced product specialists and support consultants. We will always assign your case to a member of staff that is familiar with your issue, system and any custom applications you may have.
3. COMMUNICATION
Communication is vital to our support process and we keep our customers informed of the progress of their support case at every stage until we have resolved their issue. Our team will always communicate any updates, suggestions or issues as they arise and respond to your queries quickly.
4. SUPPORT FEEDBACK
Technical expertise and outstanding customer service are Compuland's main areas of focus. After every support session, our customers are invited to tell us what they thought of our service and the feedback we receive builds the foundation of our service. We currently have a 97% rating for our service, based on direct feedback from our customers.
---
Talk to a Sage expert today on 021 454 4144   Contact us for a free consultation
---
Sage Training
With On-Site Training, Our Sage Experts will travel to your offices and provide training to meet your specific requirements. No two clients are the same so with this type of training we will tailor a training session to cover your specific requirements. We will also advise on our experience of best practices and how you can get the most from Sage Accounts.
Our Sage Training programmes help existing staff fully understand the depth, breadth and scope of Sage solutions, and help new employees get up and running quickly.
Also, with this type of training there is no limit to the amount of people who take part in the training session, so can be very good value for your company. Email sales@compuland.ie to organise a free consultation with a Sage expert.
---
Call us today for a free consultation on 021 454 4144   Contact us for a free consultation
---
Summary
Phone Support
Our phone lines are open Monday to Friday, 9am until 5pm, and we aim to answer every call within 1 minute. Our friendly technicians will help solve your technical problems step by step without using technical jargon.
Remote Access
One of the best features of our support is that remote access support comes as standard. It means we can provide one to one support directly to your computer ensuring that we solve your problem as quickly as possible, whilst answering any questions you might have along the way.
E-mail Support
Sometimes phoning isn't convenient, and you want to get on with running your business. You can e-mail us at a time convenient for you and we'll aim to get back to you within 3 hours working hours with a solution.
Call Back Service
We aim to answer all calls, but if we are busy we will take your details and guarantee to call you back as soon as possible no matter how big or small your support query.
Support for Different Versions of Sage
We want to ensure that everyone gets the help they need which is why we support more versions of accounts software than Sage.
Technician Request
Spoken to us before? We pride ourselves on high standards of customer service so if you would prefer to speak to a specific technician let us know. If the requested technician is unavailable we can arrange for another member of the team to help or take your details to arrange a call back.
Password Recovery
The dreaded "forgot password feeling", don't worry we can reset your password within a matter of minutes.
Pre-book Support Time
If you know you're going to need help with technical accounts task, such as linking it to Sage Payroll book a support slot. We take pre-booked appointments at a time convenient for you to guarantee you get help when you need it.
Data Repair
Data corruption can be a massive worry, but not anymore. We will do our best to repair your data and get your business back on track.
Email sales@compuland.ie to organise a free consultation with a Sage expert.
---
To see any part of Sage Accounts in action please call Compuland on 021 454 4144   Contact us for a free consultation
---